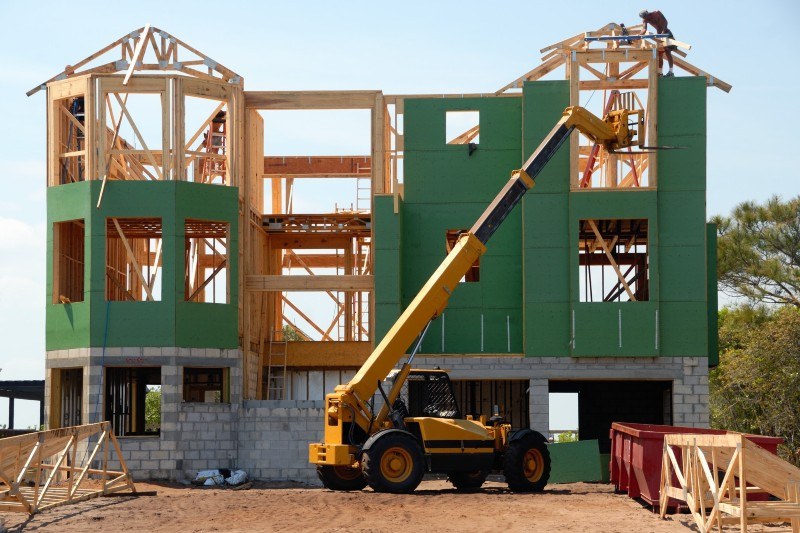 Building a House in Virginia: What to Expect (and what you'll pay)
Posted on Sep 29, 2022
---
Virginia's real estate market has been hot - to the point that many people are wondering whether it makes more sense to build a home, rather than trying to buy an existing home.
According to the Federal Reserve Bank of Richmond, 2021 saw a 14% increase in residential building permits issued in Virginia. If you're struggling to buy a home, is building one a viable alternative? Here's what you need to know.
How long does it take to build a home in Virginia?
The amount of time it takes to build a house will vary depending on the builder you use, the degree of customization, etc. However, data from the most recent Survey of Construction indicates built-for-sale homes are constructed in about 6 months, while owner-built homes take almost 12 months.
"The biggest drawback to building a home is time. Most people don't have 6-9 months to wait for a home to be built," says Muoki Musau, a North Virginia-based Realtor. "Some builder contracts have a delivery window of two years, which means that they will make their best efforts to deliver at the estimated time, but, in the worst-case scenario, it could take two years to deliver. That's a long time!"
How much does it cost to build a house in Virginia?
Your home's price will vary depending on what part of the state you live in, the local cost of labor, and the price of materials, which can fluctuate depending on everything from the time of year to global politics. Supply chain issues have caused notable spikes in the price of building materials over the last several years.
According to Home Advisor, the average cost of building a house in Virginia is $307,400, with a range of $150,120 - $464,681. Although this is quite a large range, it can give you a rough idea of what to expect. Prices will be higher in urban areas, and lower in rural areas. Part of this is due to the cost of labor - another factor is the cost of land. Land parcels in cities and popular suburbs are many times more expensive than similar-sized lots in rural areas.
GoBankingRates ranks states from least to most expensive for home building, and Virginia comes in fairly close to average at #28. "The average cost of building a home in Virginia is higher than in more than half of the states. But the state's labor cost is cheaper than in most states," they note. Construction labor in Virginia averages $14.31 per hour.
Is it better to buy or build a house?
As we've covered in our Is It Cheaper to Buy or Build a House? guide, buying a new home is generally more expensive, but a lot of the expense is due to increased square footage. Foot by foot, new homes are, on average, not that much more expensive than existing homes.
Another thing to consider is the costs you'll incur from being a homeowner, averaged out over the length of your occupancy. While a new home might be more expensive upfront, it's also less likely to have major upkeep issues in the first 10 years (like needing to replace major appliances, the roof, etc).
New home builds often come with first year warranties, ensuring that homeowners aren't likely to have major unexpected expenses where their house is concerned.
While older homes do get inspected before purchase, inspectors don't pull back the insulation from walls or drill down into the bathroom floor. While a new home is being built, by contrast, the structure is inspected at various stages of the build - reducing the likelihood of an unseen issue in the foundation, floors, ceilings, etc.
According to Redfin, the median sale price for a home in Virginia right now (Aug 2022) is $405,600, while the median cost to build is $307,400 (Home Advisor).
By the numbers alone, it would seem that it's actually cheaper to build a house rather than buy one. There were likely a few different factors that influenced this:
People who wanted to take advantage of super-low interest rates earlier this year were incentivized to buy existing homes - it's harder for first-time home buyers to qualify for new construction in Virginia because of the higher down payment requirement and the unknowns involved in the building process.
Home Advisor uses a relatively small sample size (22 home buyers) and they may be disproportionately likely to live in more affordable areas. In Northern Virginia, though, it's difficult to purchase an empty lot for under $75,000 - so the cost of buying a lot of land and building a house together are not going to be in the low end of their range.
Virginia experiences a high volume of people moving for government jobs. These families need homes immediately and can't wait a year for one to be built, pushing up demand for move-in ready properties.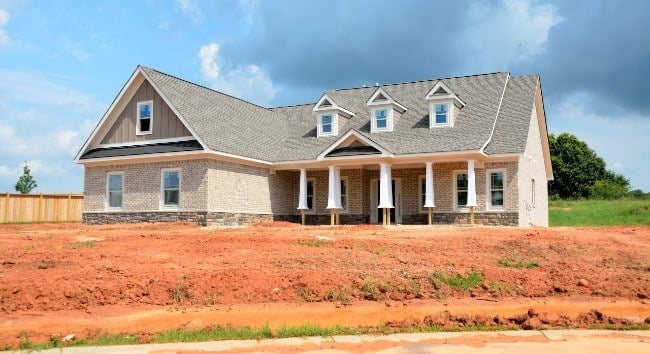 What steps do you need to take to build a home in Virginia?
To build a home in VA, you'll need to file a building permit application. The application will ask for information such as the address, the contractor's name and license number, as well as the estimated value of the project. Building permits are issued at the city and county level, so you'd want to check your local permit office for more information.
This assumes you're starting at the very first step with buying land and finding a builder. If you go to a builder who is already planning out new construction, there may be less work involved on your end - as the builder may have already applied for the appropriate permits.
Find a Realtor
Do you need a Realtor to buy a home? Make no mistake: you can always buy a home without one. However, a home is likely one of the most expensive and complicated purchases of your life - so this isn't a place to cut out expertise. And importantly, buyers don't pay for their agent's commission - the seller does (in this case, the builder).
Having a Realtor on your side is important because your interests are their interests.
"One thing buyers should realize is that sales reps represent the builder, not them. It's like a legal trial: each side can choose a representative or can go it alone. But a prosecutor is not going to advocate for the defendant," notes Musau. "Think of it this way: if a sales rep has to choose between saving a buyer money or making the builder money, they're hired to bring the builder revenue. On the other hand, a Realtor is the buyers' rep and works for their interests only. So your Realtor will guide you on how to save money, when to spend/not spend money, when to buy more time, how to handle delays, and the questions for due diligence to ask a builder."
Musau further explains that a Realtor can come in handy when it comes to managing all the deadlines and unexpected hurdles that can pop up during the months-long building process: "It's a long process, and a Realtor's job is to keep up with the deadlines, delays, and inspections, and make sure the builder is not just rushing to finish the house, but that the buyers' interests are also being respected throughout."
Find a builder
Find the builder before you buy the lot. Builders have experience in selecting lots for home building - it's what they do. They might be able to point out drawbacks to the plot (ease of access, water drainage, planned construction projects nearby that will limit the view) that you might not realize yourself.
Choose your builder carefully. Talk to multiple builders so that you receive multiple quotes for the project - and don't just choose by price alone. Consider asking:
How do you guarantee your work?
Can you give me contact information for past clients so I can talk to them?
Will the house be under warranty for the first year?
What materials do you use?
How on budget/on time are your projects on average?
Financing for Building a House in Virginia
How can a lender issue a loan on a home that isn't built yet? Simple: they don't. What you're applying for first is a construction loan, not a mortgage. Instead of having a 15 or 30 year term, a construction loan is a short-term loan for 12-18 months. This allows you to pay contractors upfront.
The requirements for this are a bit more stringent than a traditional home loan. You'll need at least 10% down payment for a construction loan (and some lenders may require as much as 30% down).
Not surprisingly, the requirements of the construction loan are often a barrier that prevents first time home buyers from building a home. It's often easier for people to build a home when they can use the equity from a prior home as the down payment.
After construction is finished, you'll convert the construction loan - or refinance it - into a traditional mortgage with a longer term.
"Have very clear expectations about your finances, especially in the next 2-3 years as the market shifts away from pandemic pricing, and interest rates remain higher than normal. Have candid conversations with your lender about what your limit is, and what you need to do to increase it if push comes to shove," recommends Musau.
Because loan rates will fluctuate during this time, it can often make sense to opt for a new construction rate lock. While this will typically come with a rate lock fee, it can be worth it for peace of mind and ensuring that you can still afford your home at the end of the construction period. Over the last year, mortgage rates rose 3%. While rates rising that rapidly may be a bit of an anomaly, even 1% can bump you into a different price range.
"Right now, more than ever, a buyer may or may not get the interest rate they want. Rates are so volatile, and in order to lock a rate, you most likely will bring additional cash to lock the rate for longer than six months (~0.5% of the loan amount)," says Musau.
According to GlobeEst, the average real estate project schedule changes five times - causing an average of 15% increase in cost. Overall, projects were 70 days late on average, which is almost two months.
Sometimes, these factors are outside of a builder's control - labor and material shortages are often the reason projects are held up. It's good to keep in mind while you review their plans, though, and as you review your budget.
It's best to budget high. Assume that true construction costs may come to 10-20% more than the initial estimate.
Building a home in Virginia allows for customization
One of the benefits of building a home, rather than buying an existing home, is that you don't need to compromise on what you want. Even if you're not opting for a fully customized build, you still usually get a say in decisions like whether or not to upgrade the countertops, what tiling you want in the bathroom, whether you want a small mudroom/laundry room, etc.
Customization can also be a plus if you're retiring or near retirement and want to outfit your home to accommodate your future needs.
Resource:Aging in Place: 6 Ways to Improve Your Home [and live more comfortably]
Keep in mind, though, that customization can impact the price and the timeline of your project.
"My advice is always to have monetary values in your head before you start making selections for the structural design, and the design center where you put your house together. Buyers can easily stretch themselves thin on the least essential items which would have little resale potential," explains Musau. "Focus on building materials, kitchens, bathrooms, patio, and deck options. Now that there is some easing in the supply chain fiasco, buyers can choose standard options and save money by contracting out the work themselves in the future at a lower cost."
For Further Reading
Get the Knowledge You Need to Win
---
Subscribe to our newsletter to get essential real estate insights.
Recent Articles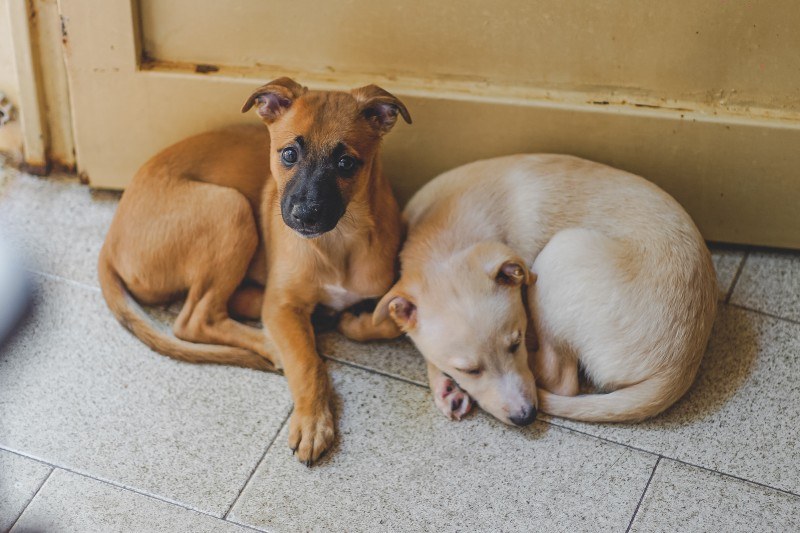 Posted on Sep 29, 2022
The housing market today is incredibly competitive. Move-in ready homes that have the updates and...